Homeownership Program
Apply to own a Habitat home
Applicants applying to the homeownership program are evaluated using three criteria:
need, ability to pay, and willingness to partner.
Income Requirements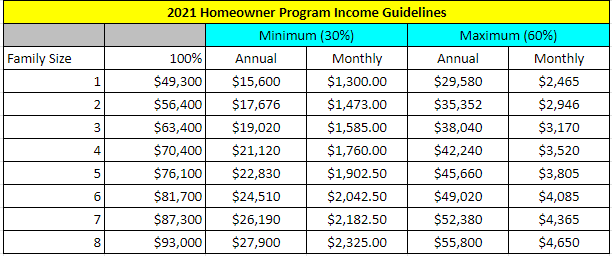 Following an initial review, we will contact you regarding next steps towards an application
for a home. If you do not meet these general guidelines, we will notify you by letter. Please be
patient, this review process can take up to 30 days.
Home Specifications
Habitat homes generally follow an open floor plan with a combined living/dining/kitchen space. When possible, Habitat works with the future homeowners to offer choices for flooring, kitchen countertop, siding, and appliance colors.
Basic House Description
Whirlpool refrigerator, stove, and range hood

Central AC, Energy Star furnace and water heater

Additional appliances as offered (at applicant(s) expense)
1.5+ bathrooms (based on # of bedrooms) 

8x10 shed

1180 square feet: 3 bedrooms

1280 square feet: 4 bedrooms

Bedroom size is approximately 100 square feet

Crawl space (no basement)

Driveway (no garage)

Basic landscaping
I would like more information about homeownership!