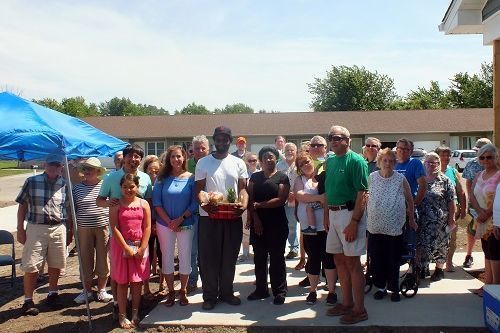 Over the last two months, volunteers have come together to build two beautiful new homes for Olivia Rice and Love Ezell and Addam Curry in Weston, Ohio. Habitat for Humanity of Wood County partnered with Slaske Building Company and Ridge Stone Builders in order to make this amazing project happen.
The Home Builders Blitz is a way for professional homebuilders to build homes and opportunities with families. Habitat branches from all over the country participate in this event in order to give as many people as possible the chance to become homeowners.
On Saturday, June 10th, we were able to dedicate the two homes. While there is still a little bit of work to be done, it was a wonderful celebration and truly a milestone in Habitat for Humanity of Wood County history. We want to give special thanks to Ply Gem, State Representative Theresa Gavarone, Ridge Stone Builders & Developers, Slaske Building Company, all of our sponsors, construction crew, volunteers and donors. And to everyone who came out to celebrate Love, Addam, Olivia and their families, thank you for your support!
Home Builders Blitz Dedication Photos